CLASSES
Advanced and Intermediate with James Reese
Advanced
By Invitation Only
Intermediate
Prerequisite: Intro To Acting
or equivalent experience (as space allows)
Bob Brunson's
Beginner and Intro to Acting
Bob Brunson has been a successful working actor for many years with TV, Commercials and web projects.  He also continues to study writing and has several scripts in the works. In addition, he has worked as an assistant in both the talent agency and casting worlds. Bob teaches from a genuine place of caring for each and everyone of his students. as he helps them to understand the building blocks of acting. 

Monday's - Starting  April 6th thru May 25th
A Safe Confidence Building Introduction to Acting with Bob Brunson
+ This class is designed with the beginner in mind - those with none or very little prior experience.
Whether you've wanted to act your entire life, or are just curious about it, this is the place for you.

Joining an ongoing acting class can be intimidating. In our intro class, you start learning with others who are are also beginning their journey with acting. Through a series of exercises and eventually scene work,  you will learn that acting isn't about "showing the audience" or having the right facial expressions, but  rather about your thoughts, feelings, and telling your character's story. You will be up and on your feet every week, learning how to look at a script, understand it, and how to break it down.  Applying what you've learned, you'll discover the joy of performing while living in the moment. 
+

This 8 Week Course (2 Months of Classes) Rate: $500.00

The perfect place to begin your acting career.
Our small classes provide a safe and supportive environment to learn the building blocks of acting with others who are beginning their journey as well.

Feedback from recent students:

"When I started the intro class, honestly I was very nervous. From a person who has never acted before but has always wanted to try, this class is an great way to dip your toe in and see if you love the art of acting and storytelling. Bobby is amazing! He creates a real safe space, breaks down exercises when needed and wants you to make mistakes so you can learn from them. This class has sparked something in me that I was hoping for and now I have the tools and confidence to continue. I look forward to joining the main class and auditioning for commercials and tv shows this year."  - Alexis F.

"The intro class is a great environment for those new to acting and wanting a judge-free zone. The teacher does a fantastic job making everyone feel welcome. The class has given me a greater understanding of acting as a whole, along with the confidence to pursue a career. Those who take the class will learn the fundamentals of acting, script analysis, character breakdown and more!"  - Tanner M.

"The welcoming atmosphere of this class allows me to explore my talents with confidence!
Understanding "why" is so important and Bobby always takes the time to break dow all the tools we utilize both inside and outside of the classroom!"  - Victoria L.
"If you want it.  Work for it.  It's that simple."
Oprah
COMMERCIAL CLASS INFO
with Josh Rappaport
+ Click On LINKS At Top Of Page
All classes take place in a comfortable & a state of the art studio in Santa Monica, California.
Classes are kept small and intimate by design.  I've never been a fan of 'The McActing World' of over a billion-served sensibilities.
If you are looking for a cramped class room, where you work once a month, there are plenty out there.
James' Studio is not one of them. You deserve to get what you are asking and paying for. 
 
+ Classes are ever evolving to keep you fresh and on your toes.
+ Class includes checking in on Career & Skills.
+ Where is your head? And how the Class and I can support you in that?  Either in the craft of acting or the business of acting. That's - Mind Gym Time.
             Everyone works... Every week... and more than once a class.
+ We work on Cold Reads and other Prepared Material from Current Television & Film Projects.  As well as preparing for the stage and applying the differences.
+ We do a twist on improv that applies directly to auditions and on-set needs.  
                        Script Analysis. Silent Movies. One Line Scenes.
+ COMEDY (Multi-Camera, Single Camera, & Film)
+ DRAMA    (All Aspects)
+ Commercials  - Our classroom work will even help you in this area of your career.

At various times On-Camera work is applied.
Top Industry "Guess" Teachers visit from time to time to share their wisdom.
Everyone is required to rehearse.
If you've written something, bring it in and we'll work on it.
        
+ During Pilot Season if a student has an audition the next day or two - They may  bring it in and we'll work on it as a group. There have been times when everyone was working on different auditions for the coming days.  It's an incredible supportive energy.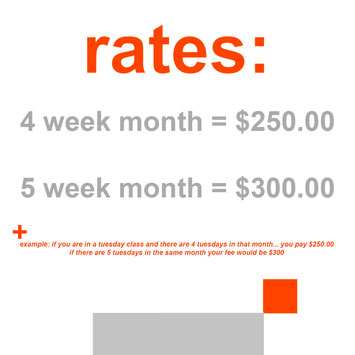 +   Bob Brunson's 8 Week Intro To Acting Class Fee: $500.00
Class Auditing Is Available @ $25.00 For One Audit
(If you then take class - we'll credit you that $25 charge on your first month of classes)
We currently accept Venmo, Checks, and of course Cash.
                     + Note: 

                     + Payment is due prior to beginning of the 1st class of every month.  
                     + Actor is responsible for awareness of Class Time & Rates.
++Important Agreement is Made by all Students:
                  Student is required to inform James or Bob
(Via Email or Text) no less than a week prior
of the start of the next month's class - 
 IF the student will not be attending the upcoming (next) month.  
                     Failure to do so, the said student is then still responsible for that month's fee.
Full Month's Payment.  
No exceptions.  No Excuses.
You've been warned.  
You will be charged and
Required to pay the full amount.
Late Fees will be applied.
By showing up to your first class (or audit),
 you have made this professional & responsible agreement.
(Date First Posted: May 2006)

  +Late Fees are applied @ $50.00 a week.
  +Bounced Checks are charged an additional $75.00.

When missing a class due to professional acting work (& legit auditions) or extreme family emergencies, you are credited that class.  If given reasonable notice.

  +All other Classes missed are forfeited.
Meaning there are no refunds!
All are here as professionals.
A little glimpse of our classes.